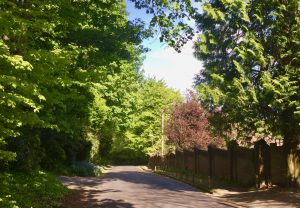 Welcome to Sleepers Hill
As you are probably aware Sleepers Hill is a private road albeit with a public right of way. This places upon us residents a duty to ensure that it is maintained to a safe standard. It does however give us some influence upon development on the Hill and we are doing all we can to ensure its well wooded and rural character is preserved.
We have a Committee of elected householders who give of their time entirely voluntarily to represent all residents whose properties are accessed from the Hill.
Membership of the Association is voluntary but all residents whose homes access off the Hill are invited to join and contribute an annual subscription (currently £75 per household) and due at the AGM, which is normally held each November. These subscriptions from more than 100 households enable us to maintain the road in a reasonable state by means of frequent minor repairs and periodical substantial repairs under the guidance of RPF Associates, our road design and engineering consultants. By everyone contributing we are able to keep the contribution as low as possible.
Under its Constitution, the Association is responsible for funding the maintenance of the road surface, curbs and drainage channels. Sleepers Hill frontagers are requested to keep their verges tidy and free from overhanging branches and maintain their driveways up to and including the edge of the roadway. All unadopted drives and roadways off Sleepers Hill are the responsibility of the householders accessed from them.
After you have moved into your home on Sleepers Hill, one of the committee members will welcome you and tell you a little more about the Association. At this time it will be helpful if you could let your representatives have details of your first and last names, address, telephone number and email on a form which you will be given. We can then update our directory which is for the private use of residents and also to facilitate our Neighbourhood Watch scheme, for which your local committee member acts as your contact person.
You will also be given the following documents which you may find helpful:
Latest update of residents list
Constitution
Chairman's latest report
Latest annual accounts
Minutes of latest AGM
Neighbourhood Watch information and stickers
Lastly, we organise a bring and share picnic each summer for all residents in one or other of our resident's gardens. This has proved to be much enjoyed and an opportunity to reinforce a sense of community on the Hill. We hope very much that you will feel part of it.
Yours sincerely
The Sleepers Hill Association.